Spring Soiree & Benefit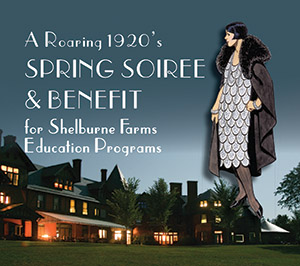 Be the cat's meow and help support the Farm's education programs! Swing to the music of Mint Julep, nibble hors d'oeuvres, imbibe at the cash bar (Prohibition's over!), and bid on live auction items (see listing below). Dapper attire optional.
Buy Tickets
Many thanks to our sponsor:

---
Live Auction
Guests at the Soiree have the opportunity to bid on fabulous one-of-a-kind items at our annual Live Auction. Come prepared to join in the fun! The fast-paced action will begin at 9 PM, under the skillful leadership of auctioneer Ethan Merrill. All proceeds benefit the education programs at Shelburne Farms, so bid high and often. Maybe you will take home a once-in-a-lifetime experience!
Farm-to-Plate Dinner
Enjoy a seasonal farm-to-plate dinner at your home prepared by Inn Executive Chef David Hugo. David will prepare a delicious, seasonal dinner, including appetizers and dessert, at your home for a dinner party of up to 8 people. David will be accompanied by one of the Inn's talented servers so you can relax and enjoy your guests! Exclusive of wine & alcohol. Must be within 40 miles of Shelburne Farms. Valid May 9 – October 18, 2014, excluding holidays, up to 8 guests.
Mother's Day Brunch at the Inn and Commemorative Hand-Blown Glass Gift
Treat the mother in your life to a delicious farm-fresh brunch at The Inn at Shelburne Farms and take home a beautiful hand-blown glass piece from Burlington-based artisans Tove Ohlander and Rich Arentzen of AO Glass. Exclusive of alcohol. Reservation for Sunday, May 11 @ 11:00 am, up to 8 people.
A Birthday Party with the Children's Farmyard
Enjoy a personalized farmyard birthday party for your child featuring time with Shelburne Farms farmyard animals and educators, a birthday confection made by our pastry chef, and a farm-related birthday craft! Valid mid-May to mid-October, some restrictions apply regarding timing and availability. up to 10, including birthday child.
Tennis (and Lunch) Anyone?
What could be more fun than a morning of tennis on the intimate har-tru green clay court at the Inn at Shelburne Farms, followed by lunch on the terrace overlooking Lake Champlain. Exclusive of alcohol; mid-week availability. Doubles, party of 4.
Two Nights at Private Lakeshore Retreat at Shelburne Farms and BBQ
Have you been thinking about planning a family reunion or want a perfect getaway for close friends? We have reserved the Orchard Cove House for you! Located at the end of seawall road south of the Inn and Coach Barn on the shore of Lake Champlain, Orchard Cove has a master bedroom with a king size bed and private bath as well as four bedrooms with twin beds (which can be bridged to make a king), and a bedroom with a daybed which can sleep two. There are two additional full baths. The house has a full kitchen with all necessary cooking utensils, washer/dryer, a wonderful outdoor patio, lawn overlooking the lake, beach, BBQ grill, and a woodstove in the living room. Your guests will enjoy two nights at this secluded lakeshore retreat and an afternoon or evening BBQ prepared by Shelburne Farms. Valid mid-May through mid-October; select dates – based upon availability. BBQ Exclusive of alcohol. up to 10 people.
Paddleboarding Shore Explore
How about Paddle Boarding around Lake Champlain shoreline of Shelburne Farms! Do you already love paddle boarding or would you love to try this fun combination of surfing and paddling? The locally based surf and board shop, WND & WVS, will provide lessons, boards, paddles, and life jackets to get you gliding around the Shelburne Farms shoreline. Once you are done exploring the Farm's shoreline, enjoy a cooler of refreshments on the beach. Valid Weekdays or Sundays, up to 8 people.
Intimate Sunset Dinner with Wine Pairings on Inn Porch
Envision a summer evening on a lovely, relaxing porch with breathtaking views overlooking Lake Champlain and the Formal Gardens. Your party of 8 will feast on a dinner of farm fresh ingredients specially prepared by the chefs at the Inn at Shelburne Farms. Valid during Inn's 2014 season: May 9 – October 18, 2014 – Based on availability. Exclusive of alcohol; non-transferable, up to 8 people.
Dessert and Gathering with Your Favorite Literary Friends
Imagine you and 9 of your closest bibliophile friends gathering–during an evening sunset or maybe one early fall afternoon around a roaring fire–in the cozy and inviting gilded age library at the Inn at Shelburne Farms. Bring your book club or a group of friends to enjoy conversation with refreshments and confections made the Inn's pastry chef. Valid during Inn's 2014 season: May 9 – October 18; some restrictions may apply. Up to 10 people.

In addition to the annual live Auction, Soiree guests this year are invited to participate in our first ever "Calcutta" auction for a chance to win overnight for two at The Inn at Shelburne Farms (Sunday through Thursday, subject to availability). Early in the evening one hundred Calcutta "tags" will be sold ($10 each, cash or check, please). The "tags" will be randomly removed from the Calcutta board in the Game Room during the evening. If yours is the last remaining one remaining at night's end, you will take home the grand prize! All proceeds benefit Shelburne Farms Education Programs.