Vermont Authors: Community Conversation Series with Fran Stoddard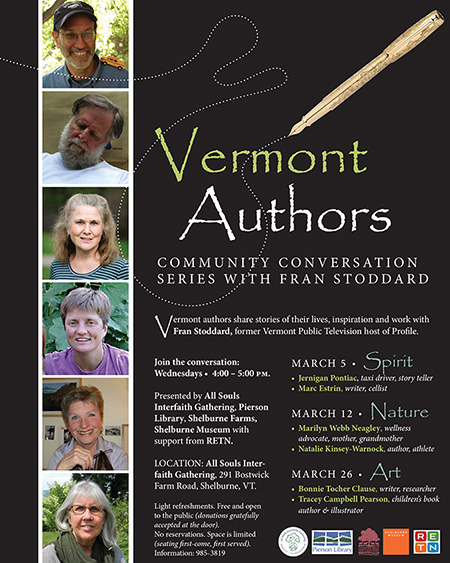 MARCH 12 EVENT RESCHEDULED for APRIL 2 DUE TO STORM. Vermont authors share stories of their lives, inspiration and work with Fran Stoddard, former Vermont Public Television host of Profile. Join the conversation! Light refreshments.
March 5 • Spirit
Jernigan Pontiac, taxi driver, story teller
Marc Estrin, writer, cellist
March 12 • Nature [
RESCHEDULED

for

APRIL

2

DUE

TO

STORM

]

Marilyn Webb Neagley, wellness advocate, mother, grandmother
Natalie Kinsey-Warnock, author, athlete
March 26 • Art
Bonnie Tocher Clause, writer, researcher
Tracey Campbell Pearson, children's book author & illustrator
Presented by All Souls Interfaith Gathering, Pierson Library, Shelburne Farms, Shelburne Museum with support from RETN.
Registration Details:
No reservations. Space is limited (seating first-come, first served). Information: 985-3819