Vermont Authors: Community Conversation Series with Fran Stoddard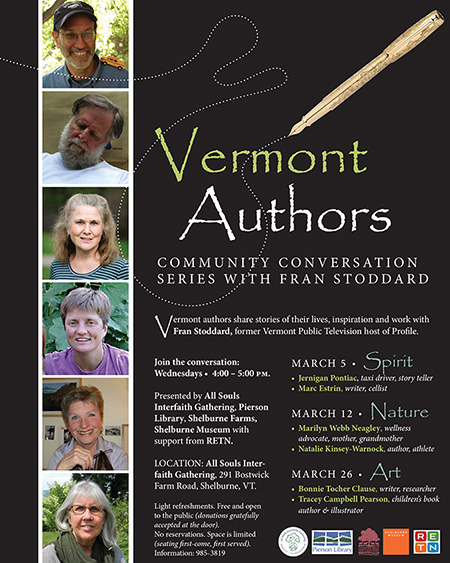 Vermont authors share stories of their lives, inspiration and work with Fran Stoddard, former Vermont Public Television host of Profile. Join the conversation! Light refreshments.
March 5 • Spirit
Jernigan Pontiac, taxi driver, story teller
Marc Estrin, writer, cellist
March 12 • Nature
Marilyn Webb Neagley, wellness advocate, mother, grandmother
Natalie Kinsey-Warnock, author, athlete
March 26 • Art
Bonnie Tocher Clause, writer, researcher
Tracey Campbell Pearson, children's book author & illustrator
Presented by All Souls Interfaith Gathering, Pierson Library, Shelburne Farms, Shelburne Museum with support from RETN.
Registration Details:
No reservations. Space is limited (seating first-come, first served). Information: 985-3819