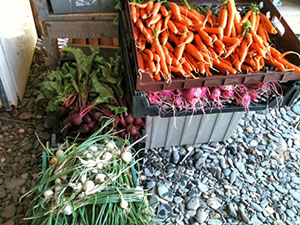 Market Garden vegetables ready to head up to the Inn Shelburne Farms is a working farm, including a dairy, Market Garden, and woodlands. The food that we grow honors and preserves the land it comes from. That's what building a sustainable food system is all about. What make us unique is that we also use our food and farming practices to educate others about sustainable agriculture and our shared connections to the soil.
What do we grow here?
Farmstead cheddar cheese from our herd of purebred Brown Swiss cows.
Organic fruits and vegetables in our Market Garden
Pasture-raised lamb 
Pasture-raised beef and veal
Pasture-raised, whey-fed pork
Pastured eggs
Maple syrup
All of these products are central to the menus at the Inn's farm-to-table restaurant, where 75% of the food served is either grown or produced locally. We are also part of a tremendous community of Vermont farmers and food producers, whose products are likewise featured at our restaurant, Farm Cart, and in our catalog.  
Shelburne Farms is a proud member of the Vermont Fresh Network.