Adventures - Preschool Program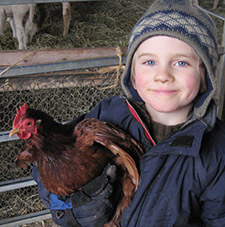 Encourage your child's curiosity and love for the natural world. Your child will spend time outside each day exploring the woods, visiting the farm animals, harvesting in the garden and hiking around the farm.  
Each class focuses on a different farm or nature topic, and addresses various learning styles with age-appropriate, hands-on activities and explorations. We provide a safe and positive environment for children so that their enthusiasm for being outside and caring for their world will continue at home and throughout their lives. 
Six-Week Sessions:
FALL

: September 30 - November 13, 2014 (This is a 7-week sesson)
Registration for the Fall Adventures lottery is now closed. If you are still interested in applying, please contact Jed Norris at jnorris@shelburnefarms.org or (802) 985-0309.
*Please note that the afternoon session is held completely outside in the outdoor classroom adjacent to the sugar house. We have an indoor space in case of severe weather, but otherwise we will be completely outside exploring the farm and all of its habitats.

WINTER

:

TBD

SPRING

:  

TBD

 

SUMMER

DAY

CAMP

: 2014 Summer Camp info
Your child will attend one day a week (Tues., Wed., or Thurs.), in either a morning or afternoon class. Morning: 9:00-11:30am (for ages 3 & 4). Afternoon: 12:30-3:30pm (for ages 4 & 5). For more information, contact Jed Norris, jnorris@shelburnefarms.org, 802-985-0309.
Program space is limited. Enrollment is by lottery. Limited scholarships available. 802-985-8686. Children must be toilet trained to participate. 
---