Updates
Campus & Buildings
Forest as a Classroom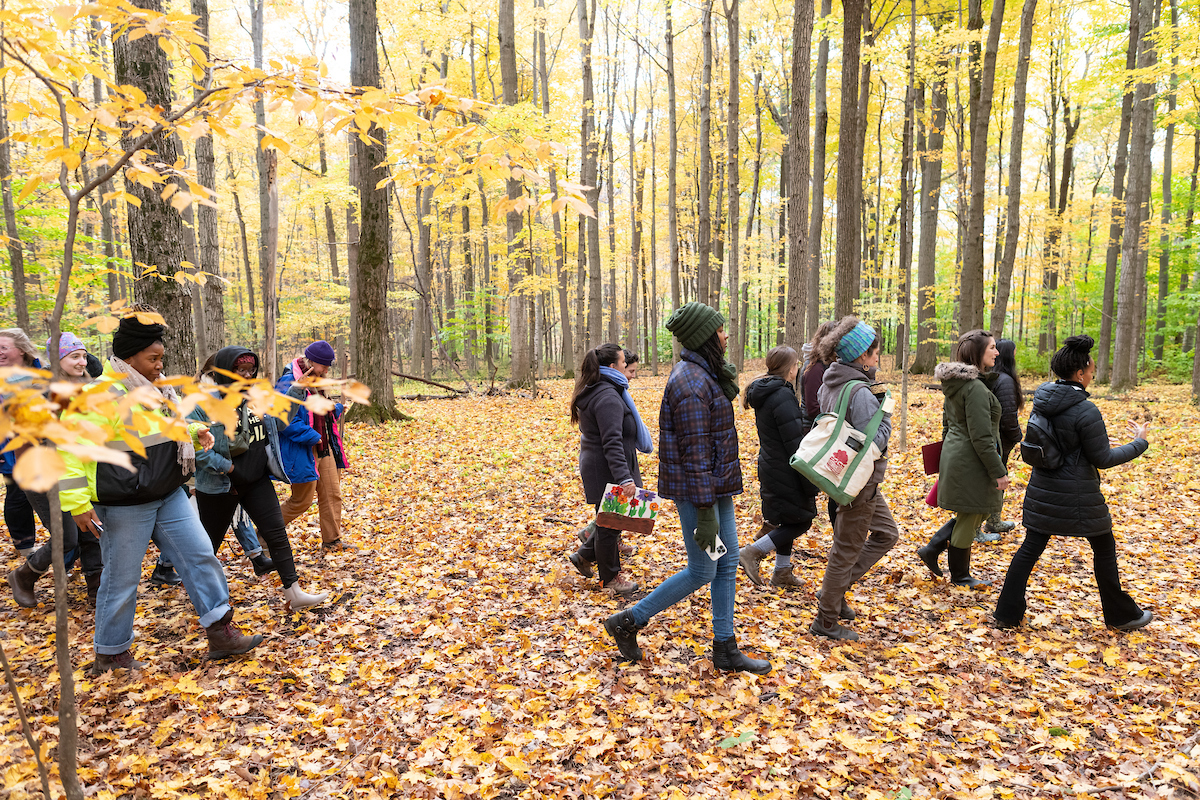 During foliage season in Vermont, it's all about the trees and forests, and the canvas of color they create. At Shelburne Farms, our woodlands are more than a beautiful backdrop (although they're looking great right now!). They're filled with activities that bring people into the forest to learn—about mushrooms, horse-drawn tree harvesting, the effects of climate change, where to find salamanders and lots more. Over the past couple of weeks, as colors have been peaking, we've been tagging along behind the many programs and activities here that rely on the beauty and ecology of our woodlands to inspire learning. Tag along with us!
Oct. 1: Horses Harvest Trees
As the calendar turned to October, teams of horses and oxen were at the farm demonstrating their skill at performing farm-related tasks. Nowhere was this more evident than in our woodlands, where several horse teams moved with strength and confidence to pull cut tree logs out of the woods (called "skidding").  In large forestry operations, big tractors typically do this work, but on smaller lots, horses can be more nimble among the trees, and can skid logs on steeper slopes. Bonus: they have less impact on the forest, and they don't rely on carbon-emitting fossil fuels.  Shelburne Farms partnered with the Draft Animal Power Network to host the weekend event. Find out more about horse logging.
Sarah Webb

One of the most exciting finds of the day: a lion's mane mushroom growing on a birch log.

Sarah Webb

Melany Kahn (left) led participants through the woods in search of mushrooms, stopping to identify any discoveries.

Sarah Webb

Everyone got the chance to investigate the dozen or so different mushroom varieties found that morning.

Sarah Webb

Old stumps offered a treasure trove of mushrooms.
Dead man's fingers, lion's mane, horse's hoof, and turkey tail — mushrooms and fungi aren't lacking inventive names — were spotted all along our trail up to Lone Tree Hill this fall. Local children's author and foraging enthusiast Melany Kahn led a family program introducing children and their families to mushroom foraging: where to look for them (rotting stumps and logs!) and how to identify some commonplace varieties. "It's a way to get kids to connect to this place they call home and as a result, maybe care about it and want to steward it," Melany says. Check out Melany's book, Mason Goes Mushrooming, and watch more from the program on WCAX.
Oct. 9: Forest Adventuring
If you've ever meandered up the hill behind the Farm Barn, you've likely come upon our outdoor classroom: our first sugarhouse, rough-hewn wood tables, a circle of log benches, and a mud kitchen (which has, as the name implies, pots and pans ready for all the mud recipes imaginative kids can cook up!). This magical space is home base for our preschool Adventures Program, where kids cook (both mud and actual food), play games, and explore the woods. The kids' days begin and end here. "We often explore other parts of the campus, too, like the dairy, farmyard, or market garden." shares Educator Jed Norris. "But I always notice a difference in the kids' moods when they've had time in the woods. They need that chance to explore, relax, and play in the mud kitchen." Their weekly routines deepen their relationship to place, and, as Jed adds, "they start to remember where they found the salamander family the week before, or where they found a mushroom growing off of a stump—they build memories here."
Holly Brough

Holly Brough

Holly Brough

Holly Brough
Oct. 10: Hand-crafted Wood
Joe Carney carefully demonstrates to Luca Karki how to attach iron legs to a board of Shelburne Farms sugar maple in order to make a table.  Luca, a high school senior at the Center for Technology Essex High School, has spent previous visits finely sanding and oiling the board to a soft finish under Joe's watchful eye. "It's gorgeous," Joe says, running his hand across the grain. "It's absolutely beautiful." Joe is the craftsman behind the tables and benches that are for sale at our Farm Store.  Luca is studying forestry at the Tech Center, hoping to make it a career, and is doing his co-op at the farm to learn all he can–in the forest and in the wood shop. "I love the woods," he says. "I love working out in the woods and I love the science. Forest management just pulls it all together." Then he adds, "And I love doing this!" Joe smiles, "Having a young man with this level of interest and engagement is awesome. He's willing to learn anything you throw at him. How cool is that!"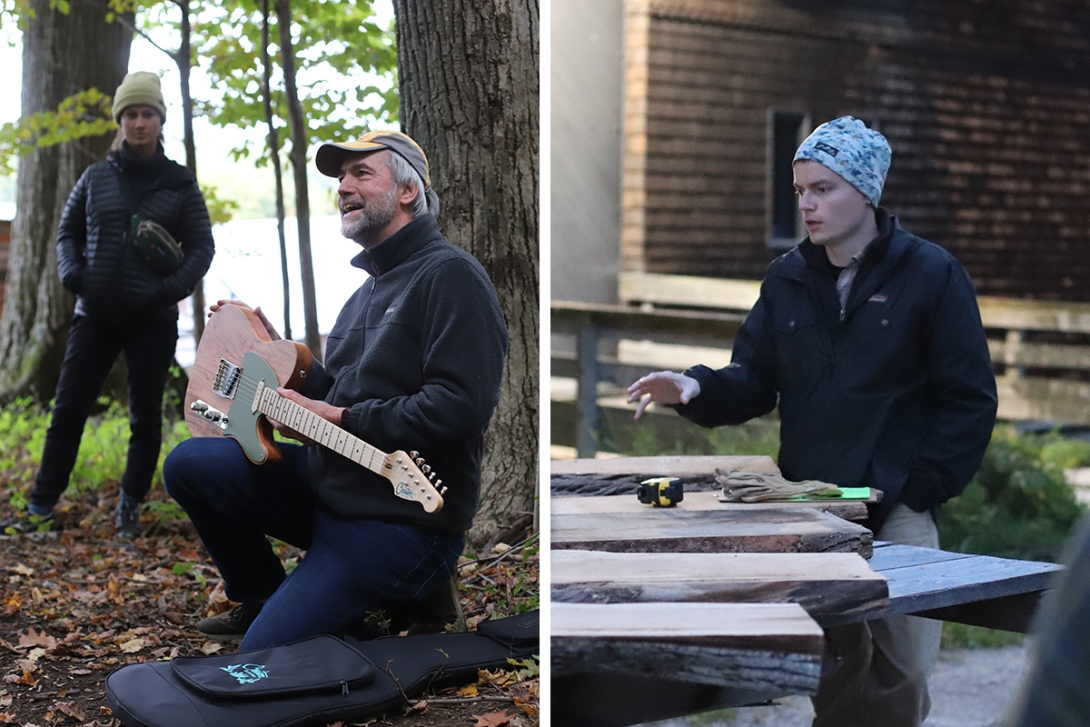 Oct. 10: Forest To Furniture
In the fading evening light, ecologist Walter Poleman guides a group of budding woodworkers through an edge of farm forest. He chats about the nature of this Champlain Valley woodland and introduces different trees as if they're actors at a casting call. In a sense, they are. Each tree's wood has different characteristics—dense, soft, light or dark grain—and after the walk, each participant will select which wood (already harvested and aged at the farm) they'll use to construct a side table. "Forest to Furniture" is a long-standing program offered with the Shelburne Craft School, and its essential lesson, according to Walt, is that, "The stories of place can permeate whatever you make." As evidence, he pulls out his guitar that was handmade from Shelburne Farms Butternut and Sugar Maple. And stories shape relationships. "I thought I knew the forests," said SCS Director Heather Moore, "and then I went walking with Walter. I look at the woods differently now."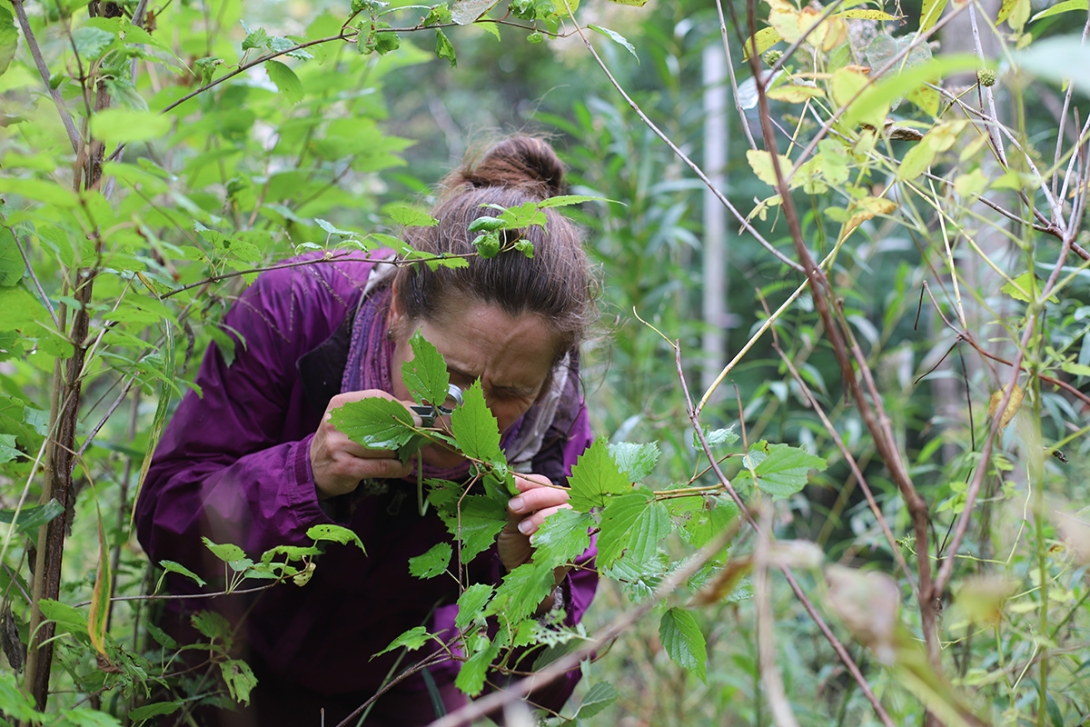 Oct. 11: Forest Edge Research
It's a drizzly morning as Jess Rubin arrives to check on research plots aligned along a wooded drainage at the farm. For the past four years, she has been studying how native pollinator plants and mycorrhizal fungi in the soil can help facilitate phosphorus uptake into the surrounding plant community to improve the health of our shared waterways. The three plots include a "control" (full of invasive buckthorn), and two fenced areas replanted with native riparian species, one inoculated with commercial mycorrhizae and one not. Nearly 90% of the selected plants are traditionally harvested by the Abenaki, adding a layer of potential positive impact to her project. To date, she's observed significantly lower phosphorus concentrations in both planted plots compared to the control, with the mycorrhizal plot indicating more reductions. Jess and her MycoEvolve team, in collaboration with UVM's Plant Soil Science Department, is seeking additional grants to expand and improve these research trials in the future.
Andrea Estey

Andrea Estey
Oct. 13: What's Alive in the Forest?
Charlotte third graders Malual and Wilder are on a hunt in the woods—a scavenger hunt, that is. "What about a snake? We haven't found that yet," says Wilder. (Farm and Forest Educator Mallory Schmackpfeffer weighs in that it's likely too cold to see a snake today.) By the end of the morning, students had found nearly everything else on their list, looking under logs and rocks, along the forest floor, and up the sides of trees for millipedes, worms, spiders, and salamanders. Third graders were on the farm for an all-day school program to learn about the forest, build a sense of place, and utilize maps. "We like to think of these activities as curricular on-ramps," explains School Programs Coordinator Courtney Mulcahy. "An activity like a scavenger hunt helps kids slow down and connect to where they are." Scroll to see students' illustrations of favorite moments from their visit.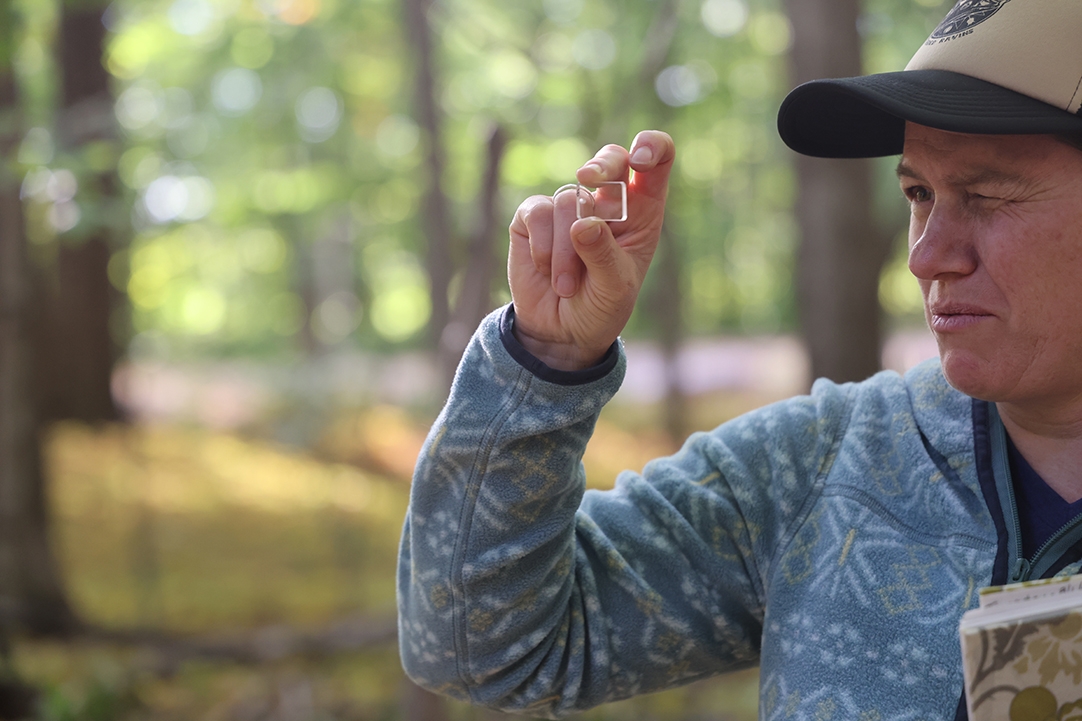 The forest floor around Windmill Hill is carpeted in six year-old sugar maple seedlings. "They're going to grow up in a much different climate," Woodlands Manager Dana Bishop tells a group of teachers, on-site for professional learning. "It's the same as the six year-old humans you all teach, really. Your kids will be growing up in a much different world. How do we help them grow?" The group entered the forest to try their hand at collecting data, marking plots and counting and measuring the largest trees. A prism (pictured) is a handy tool for spotting the biggest trunks, trees that could someday be thinned to allow more sunlight to hit the seedlings. "My six and seven year-olds would love using these tools to count trees," says one teacher. "In my class, we're trying to learn the balance of what is a forest—what it was before, and what it will be tomorrow."
Sit silently in the forest for a period of time and you'll experience just how much is alive around you. Led by certified nature guide Duncan Murdoch, two groups spent Saturday on the farm "Forest Bathing." In simplified terms, the research-based therapeutic practice is about using each one of your senses to tune into what—or who—is alive on the land. In the afternoon, a group of educators in A Forest for Every Classroom joined for a "bath" along Orchard Cove. Reflected one teacher: "I'm trying to get my students to appreciate nature. But this experience really made me wonder, am I taking the time to do this myself, to use my senses? I want to remember this experience when I'm thinking about my students, and give them more time, more quiet. It feels really good." Over the next year, these fifteen teachers will gather seasonally, gaining more strategies for learning with the land.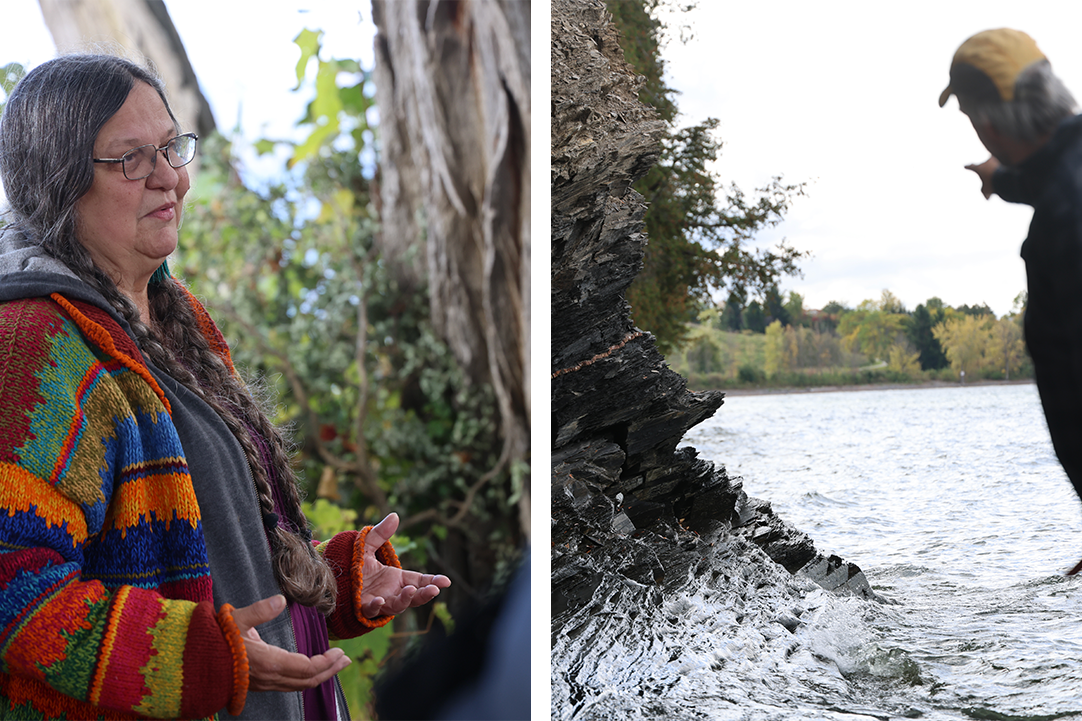 Ecologist Walter Poleman and Indigenous scholar Judy Dow are, in a way, time travelers. During a Sunday morning walk, the duo wove a story through time of how the farm's forests came to be and what forests of the future might look like. Walter and Judy call their dialogue a "braiding" of Western science and traditional ecological knowledge. "Teaching both perspectives is courageously teaching," Judy tells educators, here as part of A Forest for Every Classroom. On the left, Judy notes trees' adaptations to survive the cold nights and warm days of early spring, a season the region's Indigenous people call "the moon of the popping trees." On the right, Walter points out the calcium-rich rocks that lie beneath our soils.
Holly Brough

Holly Brough

Holly Brough

Holly Brough
Oct. 16: Forest Stand Check
"Maximizing carbon storage in the forest means leaving the largest trees even if they'd make fine lumber," Connor Stedman says as he evaluates a tall, straight sugar maple. Connor, our Climate Action Advisor, is joining Woodlands Manager Dana Bishop on one of many "stand checks" to help develop a revised Forest Management Plan for Shelburne Farms that will center climate resiliency and carbon sequestration. This particular stand along the Butternut Trail is relatively homogenous and even-aged: lots of similarly sized sugar maple trees (14-18 inches in diameter at breast height), rise above a carpet of maple sugar seedlings. "Anytime you have low species diversity you have vulnerability," Connor remarks. But a more even-aged stand also allows you to harvest some trees without disrupting the forest's overall structure. It's all food for thought and planning as the pair moves through the woods. Whatever the future, these woodlands are golden, green, and beautiful in this moment.