For Educators
Early Childhood
Farm to School
Recipes
Letting Go of the Recipe: Hands-On Cooking with Kids

Video by Andrea Estey
For kids, cooking is all about the senses: feeling the sticky squish of dough between their fingers, sniffing the sweet aroma of fresh-torn basil leaf, or keeping an ear out for the gloopy sounds that signal cream is solidifying to butter. 
Precise measurements, times, and temperatures… not quite as exciting. If you're cooking with a classroom (or home kitchen) full of young kids, it's best to have a flexible recipe that's up for some twists and turns.
And those are just the kind of "recipes" educators Hannah Corbin and Jed Norris shared with participants in Cultivating Joy & Wonder, our annual professional learning workshop for early childhood educators. On a rainy summer day in the Market Garden, the group harvested what was ripe in the fields and hoop houses, and, along with some basic pantry items and camp cooking equipment, they had all they needed to make a feast.
"Kids are so much more open to trying new foods if they see how it is made," shares Oklahoma-based kindergarten teacher and 2023 workshop participant Jo Anna Perdue.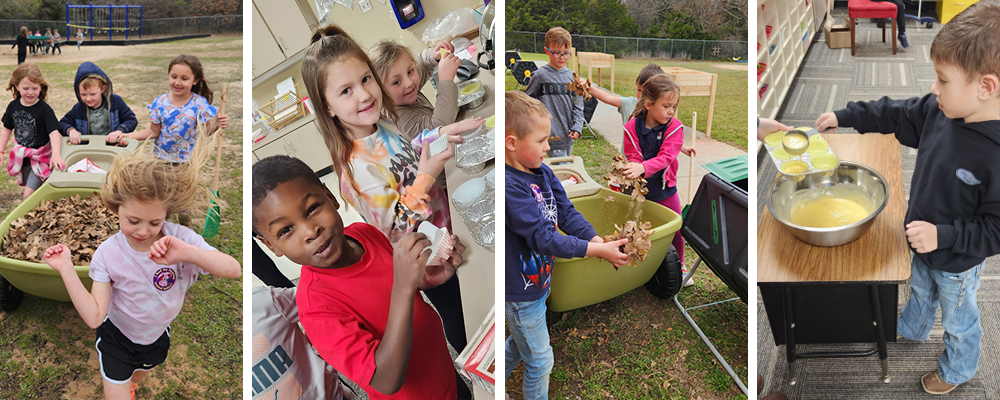 "When you're cooking with kids, especially younger kids, the goal isn't to create elaborate dishes," shares Educator Jed Norris. "It's more about encouraging them to have fun eating vegetables—chopping, grating, smushing, charring—using cooking as an opportunity to experiment, and giving them a chance to be brave and safely try new things."
---
Not Exactly Recipes
Consider these good starting points—use what you have in your kitchen and garden, make substitutions, and use your senses the whole way through (and a little tasting as you go never hurts).
Sarah Webb

Program participant Joy Emone (Nigeria) cooks up the zucchini fritters until golden brown.

Sarah Webb

The final product, served up to fellow Cultivating Joy & Wonder participants.

Sarah Webb

Program participants Jo Anna Perdue (Oklahoma) and Peju Okungbowa (Nigeria) make butter by hand — a favorite early childhood activity for connecting kids to where their food comes from.
Zucchini Fritters
Ingredients
3-4 medium zucchinis 
1 egg
¼ to ½ cup of flour
1 Tbsp cornstarch 
Salt and pepper to taste
Sliced herbs of your choice
Olive oil as needed
Method
Shred the zucchini, and add in the egg, flour, cornstarch, salt, pepper, and herbs.
Once the ingredients are well mixed, form the mixture into patties. You can add olive oil to the mixture or use your hands to make shaping the patties easier.
Heat up more oil in a skillet. Once hot, drop the patties into the pan and fry until golden brown on both sides.
How the educators adapted: They added scallions to the fritter mix and whipped up an herby pesto dip for dunking. Some sautéed squash blossoms were added for good measure.
Sarah Webb

Participants Sam Lyons (Vermont) and MariaSole Kaine (Connecticut) show their culinary creation with ingredients fresh from the field: Eggplant Tapenade over Flatbread.

Sarah Webb

The group cooked over the campfire. Here, eggplant tapenade, berry flatbreads, and popcorn are being prepared to share with everyone.

Sarah Webb

The final product, served up to fellow Cultivating Joy & Wonder participants.
Flatbread 
(adapted from a recipe by Buddy Oliver)
Ingredients
1 cup self-rising flour (make by mixing 1 cup of all-purpose flour with 2 teaspoons baking powder), plus extra flour for dusting
Several pinches of salt (or to taste)
4 Tbsp Greek yogurt
Method
Pour the flour into a bowl, make a well in the middle, then add the yogurt and several pinches of salt. Use clean hands to mix it together, until you have a dough. 
Wash and dry your hands, then dust your work surface and hands with flour. Split the dough into equal pieces. Stretch each piece of dough with your hands or roll it out with a rolling pin to about ¼ inch thick.
Put a large nonstick frying pan on medium-high heat.
Once the pan is hot, carefully add the dough pieces to the dry pan and cook for 2 or 3 minutes, or until golden and puffed up. Use tongs to turn the flatbreads over, and cook for the same time on the other side.
How the educators adapted: They created a fire-roasted eggplant tapenade for smearing over the top. Chopped eggplant was wrapped in tinfoil and stuck in the campfire embers to roast. The eggplant was then mixed with garlic, herbs, shallot, onion, and tomato and cooked down in a cast iron pan over the fire. The tapenade was spread over the flatbreads, and sprinkled with edible flowers and chopped basil and drizzled with olive oil.