For Educators
Early Childhood
Farm to School
The Power of Food to Connect Across Cultures
The Janet Munt Family Room Supports Young Learners & Families
Momos & Samosas!
On the day before the Family Supper, the bustling kitchen of the Janet Munt Family Room is filled with the enticing aroma of spices and freshly prepared dishes. Parents, community members, and staff work side by side, crafting traditional momos and samosas, while laughter, conversations, and storytelling in various languages create a vibrant atmosphere. The children, supervised and engaged by attentive staff, explore the gardens and participate in outdoor activities, as they share in the anticipation of the upcoming celebration. This year's preparations are extra special, as a local family has generously donated a goat to be shared and savored by all.
As the day of the Family Supper arrives, excitement is in the air. Families gather at the picturesque Ethan Allen Homestead, laden with their homemade dishes, ready to share their culinary heritage with the community. A long, inviting food line forms, as everyone eagerly awaits the chance to sample the myriad of flavors from around the world. The festive atmosphere is amplified by the rhythmic sounds of live music, the sweet scent of freshly pressed cider, and the smiling faces of old friends and new acquaintances mingling together. As the evening unfolds, the party carries on into the night, a heartfelt testament to the power of food, culture, and community in bringing people together.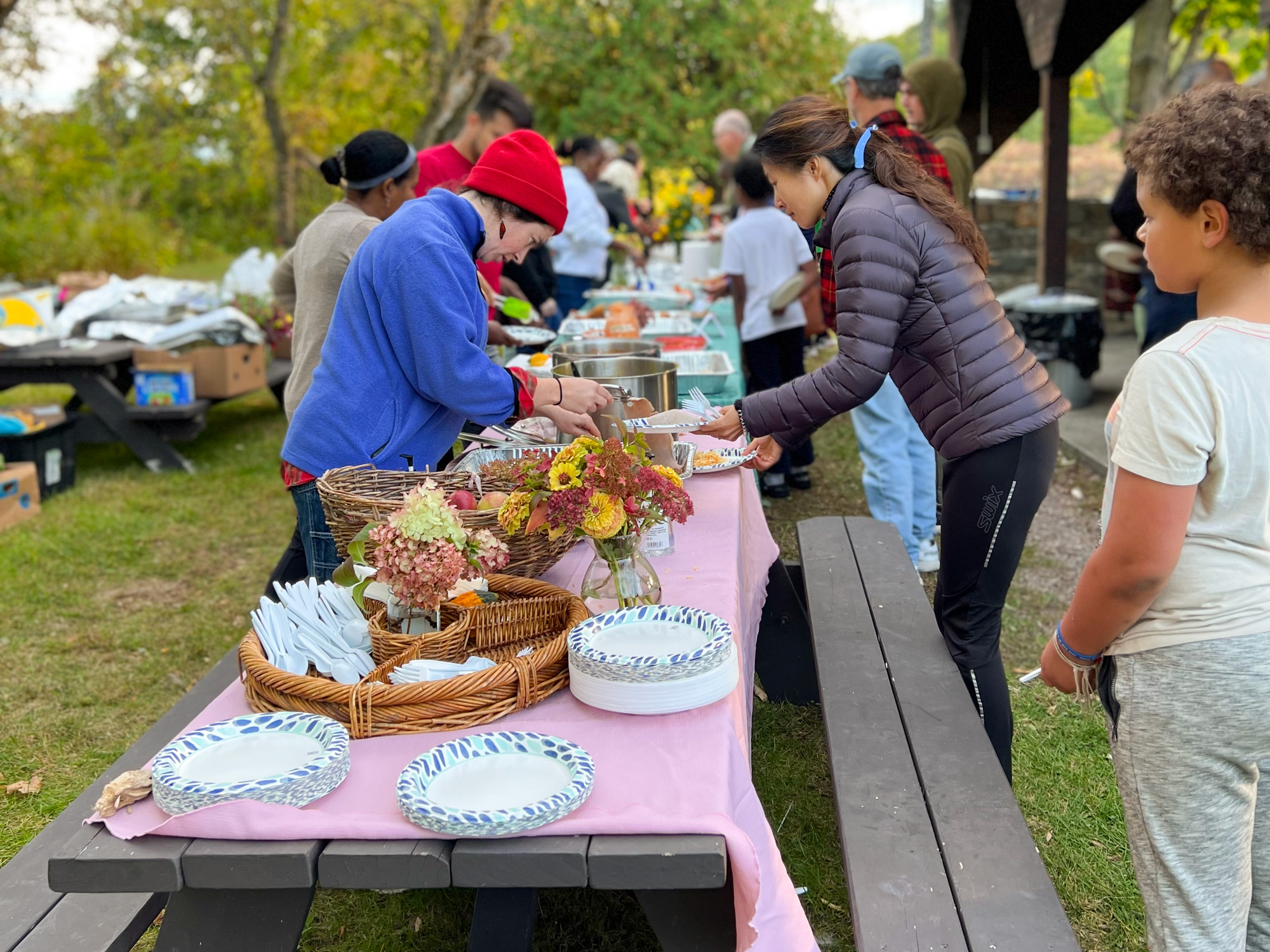 A Community Resource for All Ages
The Janet Munt Family Room is a parent-child center located in Burlington offering a range of services to families with young children, such as early care, playgroups, parent support and education, home visits, and community development.
Many of the center's programs involve farm to early childhood activities, including the Family Play at the Gardens program, which provides care and activities for children, gardening support and workshops for adults, and access to shared or individual garden plots for the season. To ensure accessibility for all families, transportation and meals are also provided. These community garden programs provide families with control over their own food production, promoting food sovereignty and building strong networks of mutual support. English classes or tutors are also sometimes available, which enables families to learn gardening, food, and cooking vocabulary in a real-life context. This immersive approach can improve fluency and engagement in language learning.
During the COVID-19 pandemic, the Family Room stepped up to support families in need by delivering locally sourced and gleaned food to over 150 families per week. This service has since transformed into an on-site pantry to increase food security within the community. It offers a wider range of produce and farm shares, including culturally relevant items like green amaranth, bitter melon, and African eggplant. The pantry offerings were informed by research conducted during the food box distribution, which identified items that were meaningful to New Americans and reminded them of home. These specialty vegetables are now grown by Digger's Mirth and Intervale Community Farm.
Through partnerships with Feeding Chittenden, the Vermont Land Trust, and the Vermont Food Bank, the Family Room has been able to provide families with a unique resource: a goat certificate that allows them to have a goat slaughtered in a culturally relevant way for religious or cultural festivals. These goats are raised at Pine Island Community Farm by a Bhutanese family who came to Vermont as refugees in 2009.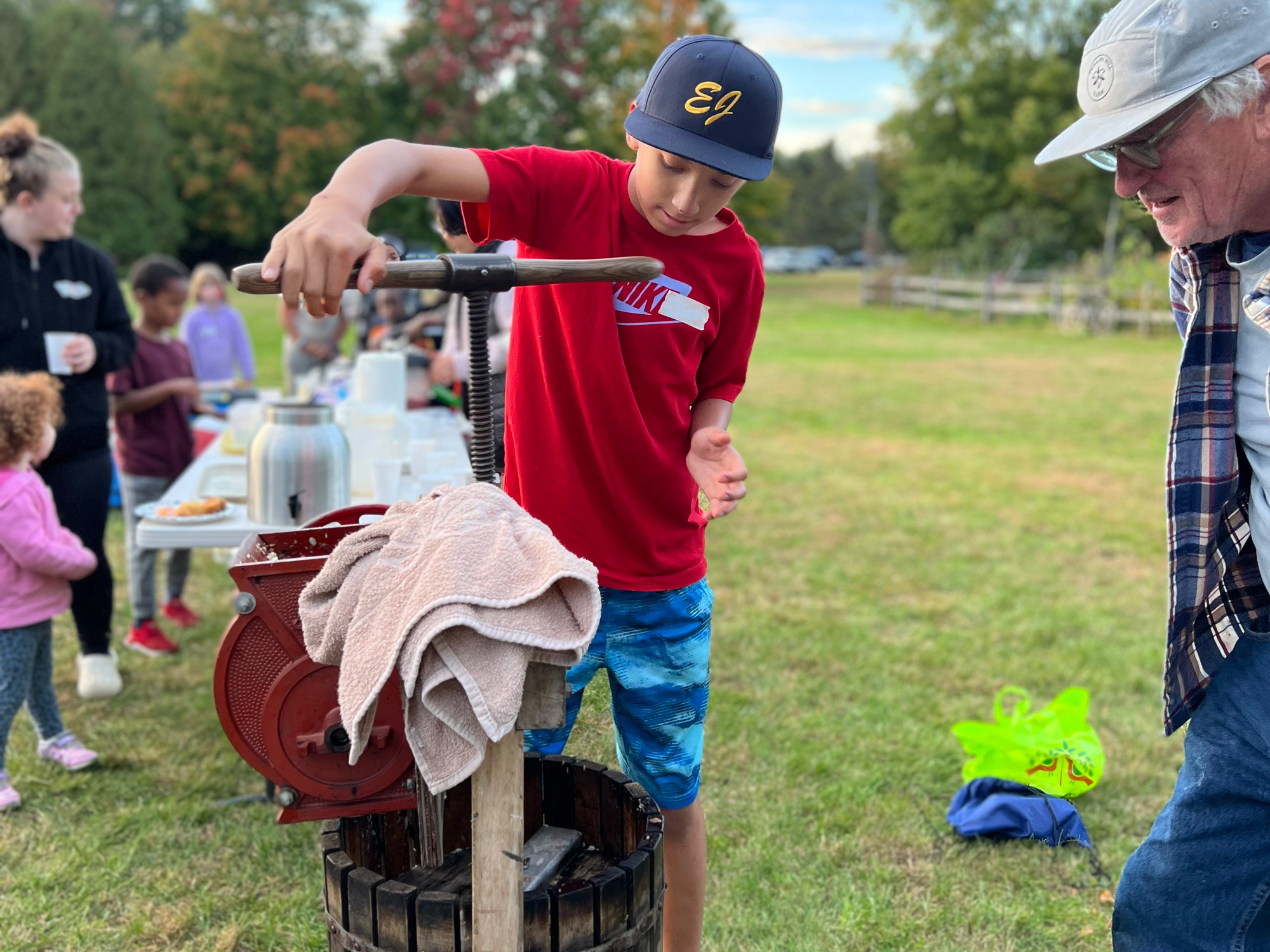 The Secret Ingredient
The Janet Munt Family Room has a secret ingredient that makes its programs truly exceptional: a deep understanding of the importance of food in sustaining health, community, and culture. Through its farm to early childhood initiatives, the Family Room provides families with access to culturally relevant foods, which fosters a sense of belonging and helps to sustain the unique cultural practices of New American families. The Family Supper and other food-related events promote intercultural exchange and celebration, bringing families from all backgrounds together to share in the joy of food in a community where all can feel supported, valued, and empowered. By recognizing the power of food to connect people across cultures, the Family Room is building a stronger, more resilient community that authentically celebrates diversity and helps all families to thrive.
Take Your Next Step
Are you an early educator looking to connect your students with hands-on learning opportunities about food, farming, and nutrition? Visit the Vermont Farm to School & Early Childhood Network's website to learn more!
The Association of State Public Health Nutritionists' Farm to ECE grantee programs are supported by the Centers for Disease Control and Prevention (CDC) of the United States (U.S.) Department of Health and Human Services (HHS), as one of several projects funded by cooperative agreement number NU38OT000279 (total of $6,320,000). This resource was supported by ASPHN's Farm to ECE grantee program, which is funded by the Division of Nutrition, Physical Activity and Obesity (DNPAO)/ National Center for Chronic Disease Prevention and Health Promotion (NCCDPHP)/CDC/HHS. The contents of this resource are those of the author(s) and do not necessarily represent the official views of, nor an endorsement by DNPAO/NCCDPHP/CDC/HHS, or the U.S. government.