Why I Support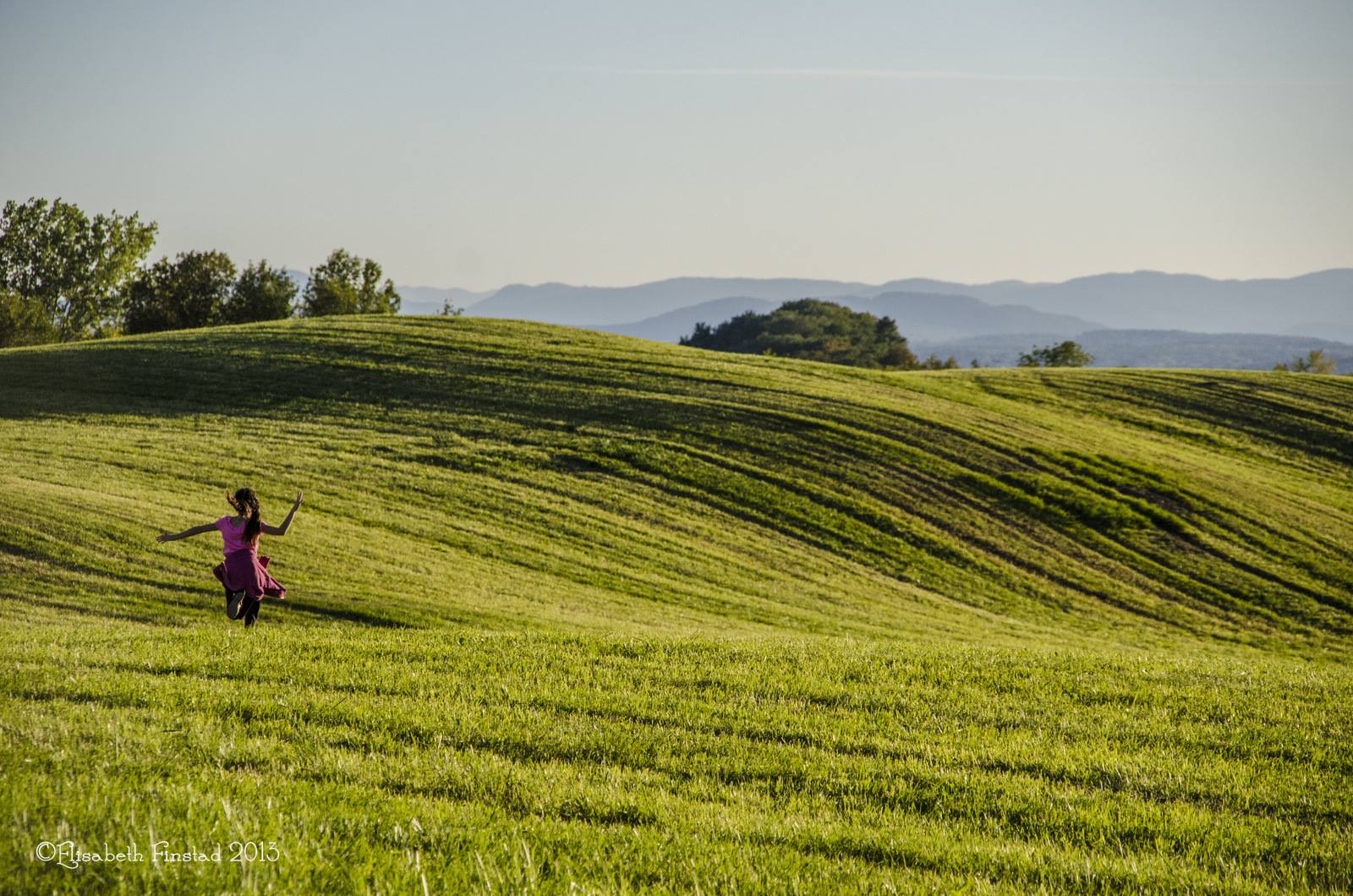 Shelburne Farms thrives because of our amazing members. We all have a unique connection with this place and mission, and our community is a patchwork of these stories.
Do you hike up Lone Tree Hill to recharge and clear your head each week? Did your child learn to milk a cow in our farmyard? Are you working hard to cultivate change for a more sustainable future?
Whatever your connection, we are so grateful for your commitment to Shelburne Farms!
---
My second home

I started "volunteering" at Shelburne Farms at the age of 8 or 9 and spent a large chunk of eleven summers working at the Children's Farmyard (as well as a number of days baling hay with Donald and Marshall).

Shelburne Farms was my second home. It was where I grew up, learned how to drive (a tractor), and learned public speaking. To this day, I hardly return home to visit my parents without stopping at Shelburne Farms. (My daughter milked her first cow at the Children's Farmyard this summer.)

Shelburne Farms, in my eyes, is an institution with a perfect mission.

After ten years of post-college training, I have finally become a full fledged physician. One of my first luxuries with the money that this has afforded me, is to make a contribution to Shelburne Farms. I hope this will be one of many future donations to your Endowment Fund to ensure Shelburne Farms exists forever.

---

Note: After receiving Matt's lovely note, we hunted through our photo archives and found a few snapshots of him. We share them here with his permission.

Matthew Meyer

Boston, MA

Shelburne Farms has had a special place in our hearts since the first time we stepped on the property in the 80's. Needless to say, the buildings and programs have evolved over the years, but the essence and soul of this remarkable place haven't changed. Our frequent walks around the property constantly inspire wonder of and appreciation for the work of Robert Law Olmsted and the many people who have protected this land.

Yet, it isn't just the physical property that draws us; it's also the dedicated staff and extraordinary educational programs and outreach. Also, Shelburne Farms was a perfect place to instill voluntarism in our three children – from demonstrating how to make butter and ice cream to working with families on winter gifts. They all went on to work at the Welcome Center, and one daughter at the Inn, and Shelburne Farms is a destination whenever they are home for a visit.

We are committed to supporting the educational programs and protection of this very special place, and donating stock has been a beneficial way to do this. We hope you will join us in this effort.

Bob and Joan Britt

South Burlington, VT

We discovered Shelburne Farms in 1978 and were so impressed with the Farm's mission and moved by the Webb family's on-going dedication to it. We immediately became Stewards and have consistently donated at that level or above for almost 40 years. We have grown to admire and respect the people who continue to dedicate so much of themselves to making Shelburne Farms work. Over the years, we have introduced hundreds of people to the magic of the Farm and still love when we are able to share it with "newbies". We have often used the tax-wise method of donating appreciated securities to accomplish our giving goals and would encourage anyone to look at this "smart" way to donate.

Ken & Susie Mandelbaum

Brooklyn, NY

Dorothy Cole ("Mrs. Cole" to the hundreds of 8th grade English students whom she taught for many years) has been a member of Shelburne Farms for more than three decades. When asked what has inspired her loyal support of the Farm, Dot smiled and said, "I love the enthusiasm and joy that the Farm programs and experiences provide for kids of all ages.

Dot Cole

Shelburne, VT

"...the deep importance and the impact of the organization's mission of sustainability"

It was about 8 years ago that our granddaughter, upon visiting the farm, told us it was a "Beautiful castle in the woods." We had to agree.

Since then, we have both become increasingly involved, at first by helping to feed the orphan lambs in winter, then with Sue volunteering in the market garden and as a regular tour guide for 7 years (so far), and more recently with John volunteering too, at Winterfest, and with helping to wind the clocks. We have benefitted from various courses we've taken. And we have always loved the Inn, it's fine food, spectacular views, sunsets, gardens, the historical, elegant rooms, and the roaring fireplaces on late September evenings.

As our involvement has increased and evolved, so also has our appreciation for Shelburne Farms. At first captivated by the beauty of the place and by the "peaceful, easy feeling" that comes with each visit, we have become increasingly aware of the deep importance and the impact of the organization's mission of sustainability. We are true believers.

We are so very grateful that Derek Webb's children so generously gave this huge gift of beauty and world-betterment to all of Vermont, and to the entire world, and we look forward enthusiastically to sustaining our support of Shelburne Farms!

John and Susan Louchheim

Colchester, VT

We have had the blessing of being Shelburne farms members for several years and we plan on it for the rest of our lives! It is so much more than a beautiful place we visit; Shelburne Farms is at the heart of many of our family's most treasured experiences. The opportunities our three young children have had while exploring the farm barn, trails, gardens and lake are priceless. Our 6, 4 and 2 year old children have grown up learning to walk at the farm! They have mastered the art of catching chickens and they have bottle fed goats. They have milked cows and churned butter. They have tapped maple trees and made bread over campfires. They have had countless tractor rides and have been pulled in wagons by Percheron horses! They run with butterflies and can catch salamanders.

When we walk by the dairy barn, they always stop to tell the gorgeous brown Swiss "thank you for the cheese!" We will never forget watching the cows run out to pasture for the first time this spring. It is a dream to have this be a part of their childhood!

The farm educators in the farm barn and in all the camps and children's programs are extraordinary. They inspire curiosity and wonder in us all and they do so with passion and joy! From the moment we arrive at the farm, we feel at peace as we take in the landscape, admire the animals and visit with all the fabulous people in the shelburne farms community. From the welcome center to the inn, and everything in between; Shelburne Farms offers us so many special experiences.

It is truly one of the greatest joys in our lives that Shelburne Farms is such a strong and wonderful part of our family story. We are incredibly appreciative to have the opportunity to be members and friends of the farm and we are eternally grateful that our children are growing up here. Shelburne Farms is our happy place!

Michelle Lewis

Shelburne, VT

Why we support Shelburne Farms

Unparalleled walking, year round.
The views of the landscape, lake and mountains.
Inspiring architecture and history.
Events and education – from birds and nature to farming and food, from art and music to seasonal celebrations.
Meals at the inn.
In short, it is a place to soothe and uplift the soul.

Laura & Rob Carlsmith

Hinesburg, VT

"The Farm kindles love and understanding of our earth in everyone it touches."

40+ years ago some amazing people had the idea to protect this diverse and incredibly beautiful land on Lake Champlain that would make the previous three founding and farming generations very proud. Shelburne Farm is one of the most unique working farms in Vermont, the U.S and the world. By sharing and continuing to develop educational programs available to hundreds of people all year every year the Farm kindles love and understanding of our earth in everyone it touches. I grew up in Vermont and spent several weeks every summer on this farm and knowing that it will be protected and used by present and future generations is a dream come true.

Gael Minton

Ranchos de Taos, NM
Pages